Description
The TS400-D133 Operator module is the human-machine interface in the TS400 fault monitoring and building automation system. All status or alarm messages are displayed in plain text, and the integrated alarm indicator is also activated in case of alarms. The 13.3" touch display offers the possibility to visualize data points on overview plans, display current measured values with actual value and trending, view log files and make changes to the user configuration.
A maximum of 16 TS400-D133 Operator modules can be integrated in a system and the messages can be assigned selectively. The TS400-D133 Operator module is connected to the network (technet).
Alternatively, the connection can be established with a serial null-modem cable. The power supply can be either 24VDC on the screw connector or a 12VDC desktop power supply on the connector socket.
The TS400-D133 Operator module can be mounted on a wall bracket or monitor arm using a 100x100mm VESA mounting device. The installation bracket 832.700.494 (accessory) is available for installation in device or cabinet fronts.
Application examples:
Visualization of alarms and measured values on floor plan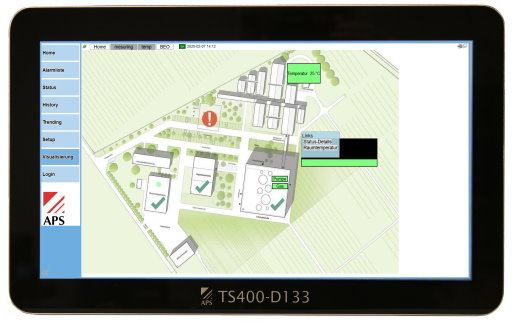 Parameterization of the alarm groups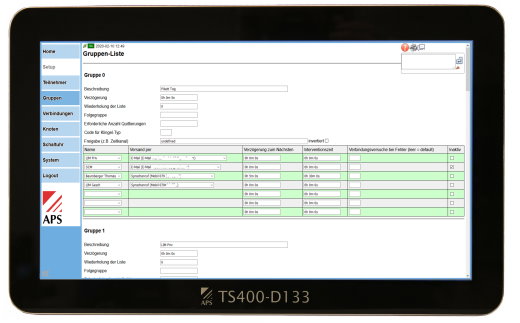 Trending and logging of measured values e.g. temperature / humidity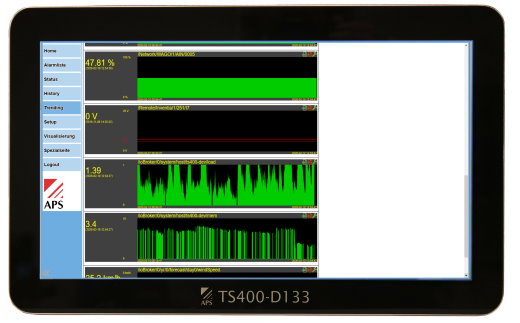 Connections
Connection and integration TS400-D133 Operator module
The TS400-D133 Operator module is preferably integrated into the Technet. Therefore only one network cable is required for the connection.
Alternatively, the connection can be established with a serial null-modem cable. In this case, the use of the visualization can be limited due to the data transfer rate
The power supply can be realised in two variants:
With external 24DC power supply

With 12VDC desktop power supply

Schematic Connection TS400-D133 Operator module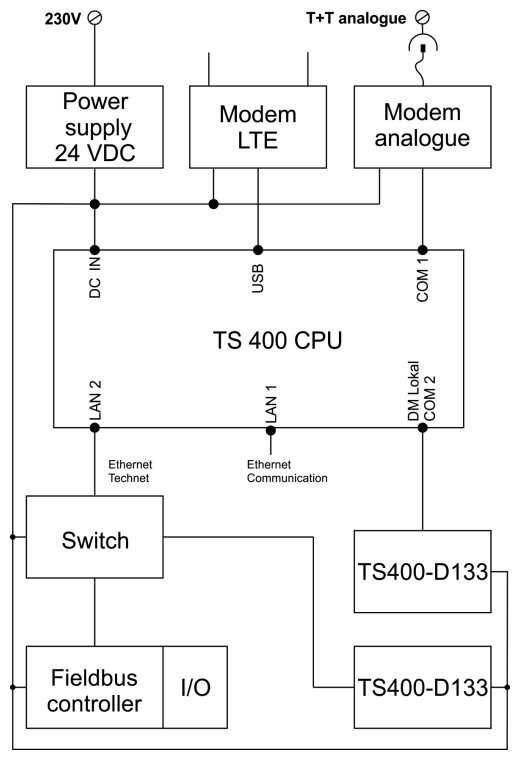 Massbild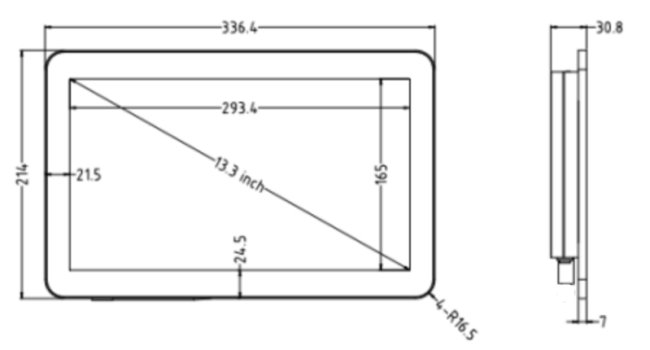 Technical data
| | |
| --- | --- |
| Generell | |
| Dimensions | 336.4 x 214 x 30.8mm (WxHxD) |
| Dimensions for front cutout | 310 x 180mm |
| Height for front mounting | 7mm |
| Screen size | 13.3" / diagonal 337.82mm |
| Screen resolution | 1920 x 1080 pixels |
| Brightness | ≥ 300cd/m2 |
| Temperature range | 0 to +60°C |
| Humidity | 0 to 90% |
| Degree of protection | IP20 |
| Weight | 2.0kg |
| Assembly | VESA mount 100mm or front mounting |
| Electrical | |
| Power consumption | 12W |
| Supply voltage Connection 1 | 24VDC (12-28VDC) |
| Supply voltage Connection 2 | 12VDC with desktop power supply |
TS400 Downloads