Description
The TS400 DM Operator module LAN is the man to machine interface in the TS-400 annunciator and building automation system. All status- or alarm messages appear in plaintext. The integrated acoustic alarm also activates when an alarm arises. The function keys can be use to acknolwledge alerts, set time and brightness and to access a log file for the previous 1000 events.
Up to 16 TS400 DM Operator modules can be integrated into one system. The messages can be assigned selectively. The TS400 DM Operator module LAN module is connected to the network (technet) the power supply is realaised by Power over Ethernet (PoE) according to IEEE 802.3af
Thanks to its flat design, the display and Operator module can be mounted directly on front panels, walls or to the work surface via a monitor stand.
Application examples: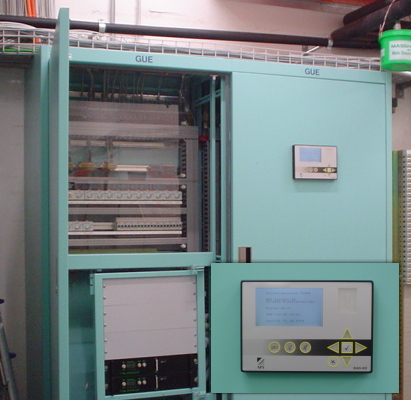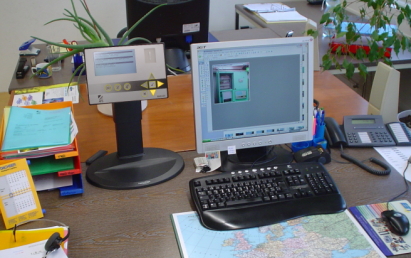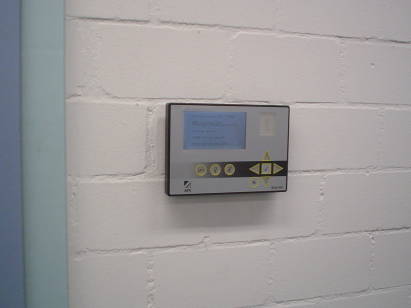 Connections
Connection and integration of the TS400-DM Operator module LAN
The TS400 DM Operator module LAN uses the PoE (Power over Ethernet) technology and is integrated into the Technet. Therefore only a network cable is necessary for the connection.
The PoE supply may be performed in three versions:
Switch with integrated PoE supply

PoE Injector installation model DIN top-hat rail with 24VDC power supply

oE Injector desktop model with 110-240VAC power supply

TS400 DM Operator module LAN connection principle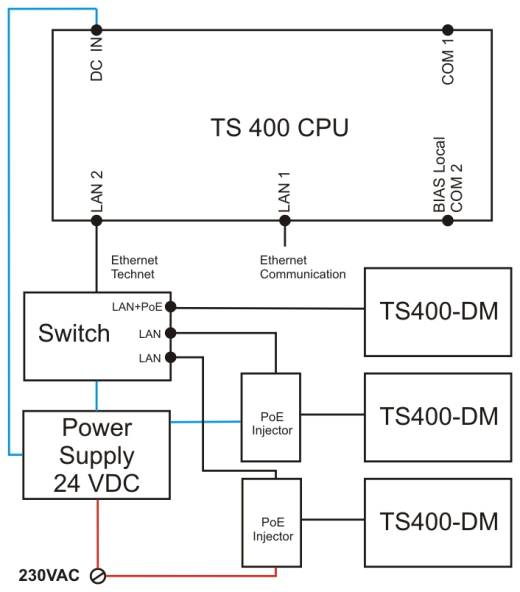 Dimensions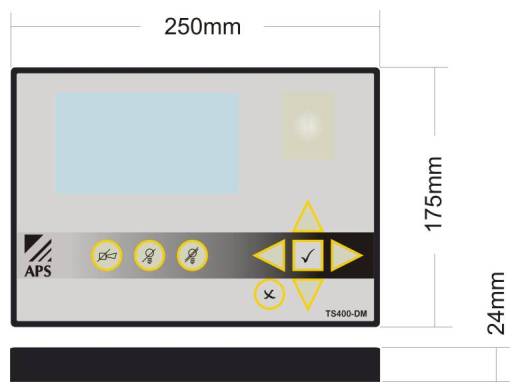 Technical data
Type
TS400 DM Operator module LAN
Image
Part number
832.700.410
Shop
Display
LCD 16 lines x 30 characters, backlit, supports graphics
Connection
Network cable
Temperaures
Operating
Storage


0 to +55 °C
-20 to +75 °
Housing
Anodized aluminium
Mounting
-cabinet front 114x163mm M4
-monitor stand VESA 75x75mm
-wall bracket VESA 75x75mm
Protection category
IP 40
PoE Standard
IEEE 802.3af
Power
5W
Supply Voltage
48VDC
Dimensions (B x H x T)
250 x 175 x 24
Weight
1320 g
TS400 Downloads