Description
The controller is the intelligent upstream starting point of each and every node. Up to 128 nodes can be used in the system. All of these are supplied locally. Each controller is able to manage 64 directly and 250 with the bus extension. This results in up to 2000 digital or 1000 analogue I/Os per node. Please note the maximum I/O consumption of 1700mA which the contoller is able to provide. The WAGO 750-881 is used as basic controller and works with the special APS firmware. The node can be connected to the WAGO I/O module of the 750 series. This provides a cost-effective range of inputs and outputs in all possible voltage variants.
The nodes are connected via a network cable (min. Cat. 5). The fieldbus controller provides two ethernet interfaces with a switch. This enables a direct connection form node to node or programming access directly on the node. The standard setting of the IP-address DIP-Switch is DCHP.
The fieldbus controller 832.700.500 is the successor of the 750-841 version. To enable proper function, the firmware version of the CPU must be 1.25.6922 or higher.
Information about the previous version is found here
Application example: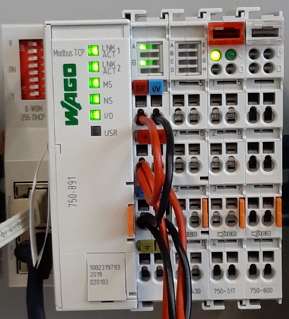 View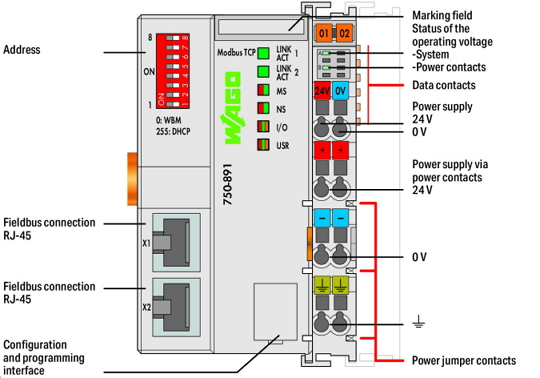 Technical data
Type
TS400 Fieldbus controller
Image
Part number
832.700.500
Shop
Program memory
1024kByte
System structure
Digital signals
analogue signals
Max. no. of I/O modules
Max. no. of I/O modules with bus extension


2000 (Example with 250 pcs. 8 cannel inputs)
1000
64
255

Supply voltage
24 VDC
Total current for the I/O modules
1700mA (Extensible with the power supply module 750-613)
Temperatures
Operating
Storage


0 bis +55 °C
-25 bis +85 °
Housing
Plastic
Connection
Cage Clamp 2,5mm2
Mounting
35mm DIN rail
Protection category
IP 20
Dimensions (W x H x D)
62 x 65 x 100
Weight
160 g
TS400 Downloads