Description Through the use of extensions, the VOICE
agent
can be extended to a comprehensive technical monitoring and alarming system with up to 64 inputs and 52 outputs. In one system, up to 3 extension modules can be connected to the VOICE
agent
over the network. Each extension module provides 16 inputs and 16 outputs. The first eight (I00-I07) of the 16 inputs can be switched to analogue. According to requirements, 16 relay contacts in 4 groups or 16 transistor outputs can be selected.
Programming The extensions are connected to the VOICE
agent
over the network and integrated automatically. Programming is then carried out centrally from the web interface of the VOICE
agent
. The additional inputs and outputs are shown in the respective menu with a further entry. In order to work with extensions, the software version of the VOICE
agent
must be at least V2.02. An update can be performed on existing systems from version V2.00 onwards.
Example of the programming by browser: Input menue with ingegrated extensions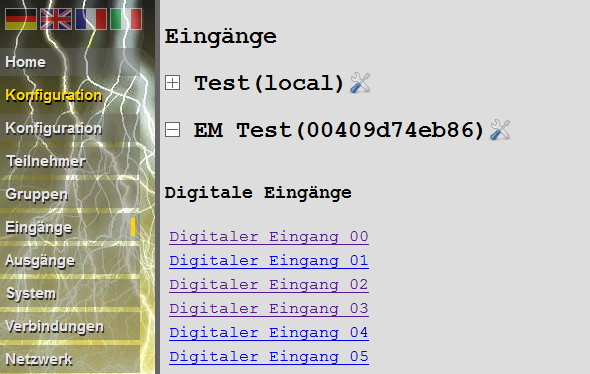 Example of the programming by browser: Input detail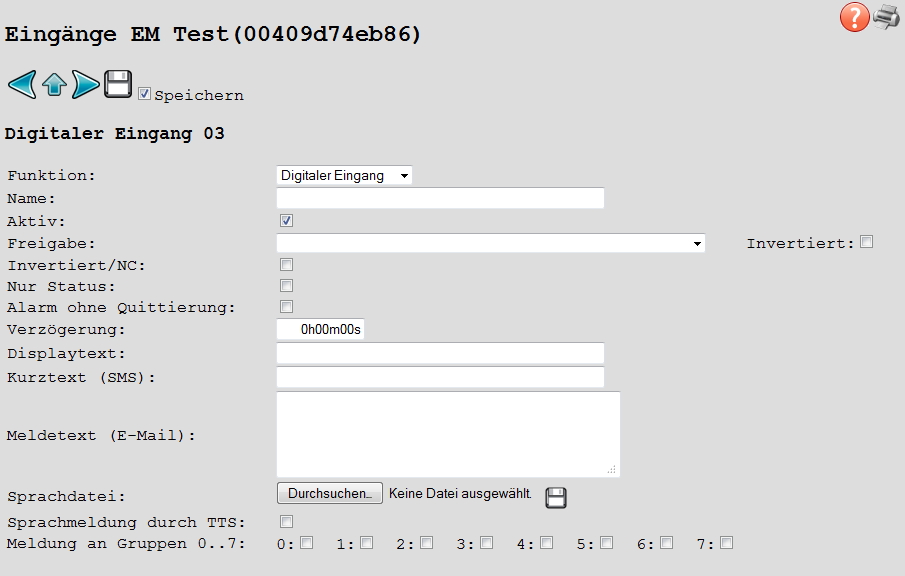 Technical data
Type
Extension 24VDC, relay version
Extension 24VDC, transistor version
Part number
832.290.000
832.295.000
Weight
435g
325g
Switching capaciy of the outputs
Max. 6A / 250VAC AC1
Max. 80mA / 50VDC open-drain to COM (GND)
Power consumption
maximum 6W
maximum 3,2W
Maximum number of modules
3 extension modules
Inputs
16, of which up to 8 can be switched to analogue
Digital inputs
24VDC NO or NC
Analogue inputs (I00-I07)
0-10V oder 0-20mA with shunt
Switch-on threshold digital inputs
8VDC
Min. pulse duration for triggering
1s
Outputs
16 NO or NC
Supply voltage
24VDC (18-30VDC)
Network LAN
Static IP adress or DHCP
Housing
Plastic
Dimensions WxHxT
160mm x 52mm x 118mm
Mounting position
anx
Mounting
35mm DIN-rail EN50022 / 32mm C-rail EN50035
Connections
Screw terminals max. 1,5mm2
Temperature range
0°C to +60°C
Protection class
IP10
Schematic
Please click on the image for a larger view or go to the
download of the wiring diagram sheet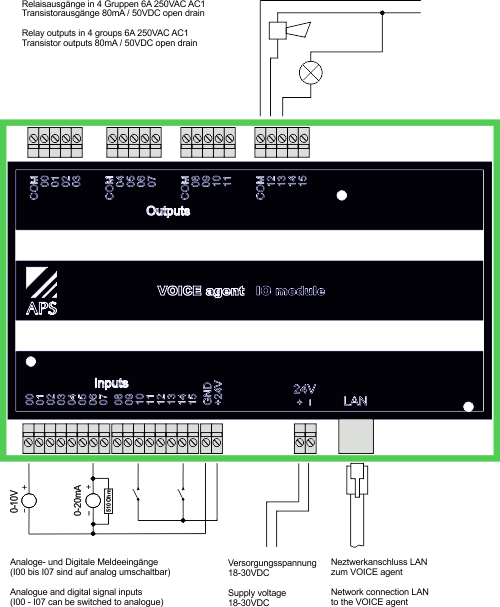 Dimensions
Please click on the image for a larger view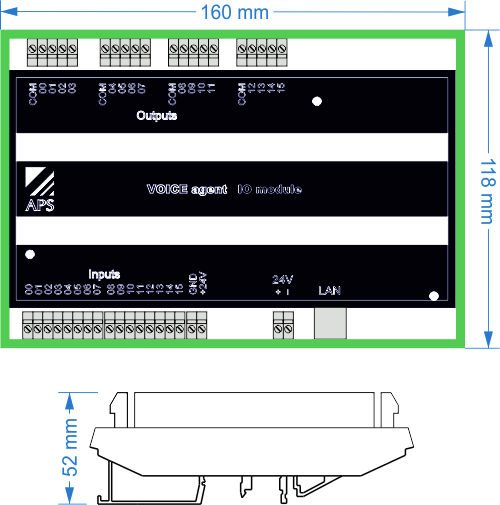 Order overview
| Part number | Picture | Description | Shop |
| --- | --- | --- | --- |
| 832.290.000 | | VOICE agent extension 24VDC, 16x inputs, 16x relay outputs | |
| 832.295.000 | | VOICE agent extension 24VDC, 16x inputs, 16x transistor outputs | |
Downloads