Description
The VG on delay relay allows you to apply an activation delay for relays, contactors, solenoid valves and consumers quickly, simply and with minimal wiring. The VG does not require any additional power supply. It is wired in series to the consumer, making it cheap to retrofit existing systems. The time range for the delay is between 0.09 seconds and 40 minutes. The VG on delay relay is designed for two time ranges between which can be switched using a jumper. There are four different variants available, covering the voltage range from 24 to 230VAC/DC. The device can be operated using AC voltage or unfiltered or partially filtered DC voltage after the rectifier bridge.
The VG on delay relay is the ideal solution for:
Raising and lowering shutters and net curtains
Staggered activation of light groups in order to avoid peak current
Activation delay for all relays and contactor control
Time setting It takes three steps to set the time. The selection is made using a wire jumper between clamps 3 and 4. The time range is set using the three DIP switches. Fine adjustments are made with the adjustment wheel on the front of the device.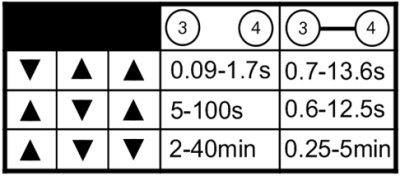 Technical data
| | | |
| --- | --- | --- |
| Load | Minimum | Maximum |
| Bei 24V | 2.4kΩ | 48Ω |
| Bei 36V | 3.6kΩ | 72Ω |
| Bei 48V | 4.8kΩ | 96Ω |
| Bei 60V | 6.0kΩ | 120Ω |
| Bei 110V | 11.0kΩ | 220Ω |
| Bei 220V | 22.0kΩ | 440Ω |
| | |
| --- | --- |
| General | |
| On delay | 0.09s to 40min |
| Voltage VG024 | 20-30VAC/DC |
| Voltage VG060 | 29-72VAC/DC |
| Voltage VG110 | 88-175VAC/DC |
| Voltage VG230 | 175-250VAC/DC |
| Frequency | 40-60Hz |
| Temperature range | -20 to +50°C |
| Accuray | +/- 0.5% |
| Reactivation | ≤ 50ms after time lapse |
| Reactivation time | ≤ 200ms during time lapse |
| Duty-cycle | 100% |
| Voltage drop | < 4V after time laps (cl. 1+2) |
| Peak voltage | 600V constant / 1000V 50µs |
| Leakage curent | < 4mA |
| Mounting | DIN top-hat rail 35mm |
| Mounting position | Any |
| Connections | 1,5mm² |
| Weight | 65g |
| Dimensoins (BxHxT | ) 7.5x95x58mm including DIN catch |
| Dimensions (BxHxT) | 7.5x90x58mm without DIN catch |
| Protection degree | IP20 |
Table of comparison The following table shows which new versions are replacing the old VG timers

Old VG99 version

Replacement
Old part number
Old type
New part number
New type
825.005.0001
VG99.024
VG024
VG on delay relay VG024
825.005.0002
VG99.060
VG060
VG on delay relay VG060
825.005.0003
VG99.110
VG110
VG on delay relay VG110
825.005.0004
VG99.220
VG230
VG on delay relay VG230

Old VG100 version

Replacement
Old part number
Old type
New part number
New type
825.006.0001
VG100.024
VG024
VG on delay relay VG024
825.006.0002
VG100.060
VG060
VG on delay relay VG060
825.006.0003
VG100.110
VG110
VG on delay relay VG110
825.006.0004
VG100.220
VG230
VG on delay relay VG230

Old VG101 version

Replacement
Old part number
Old type
New part number
New type
825.007.0001
VD101.024
VG024
VG on delay relay VG024
825.007.0002
VG101.060
VG060
VG on delay relay VG060
825.007.0003
VG101.110
VG110
VG on delay relay VG110
825.007.0004
VG101.220
VG230
VG on delay relay VG230
Schematic
Please click on the image for a larger view or go to the
download of the wiring diagram sheet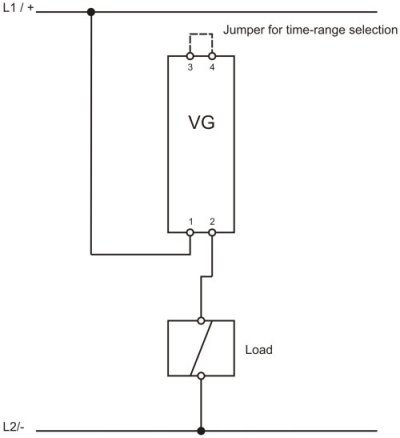 Dimensions
Please click on the image for a larger view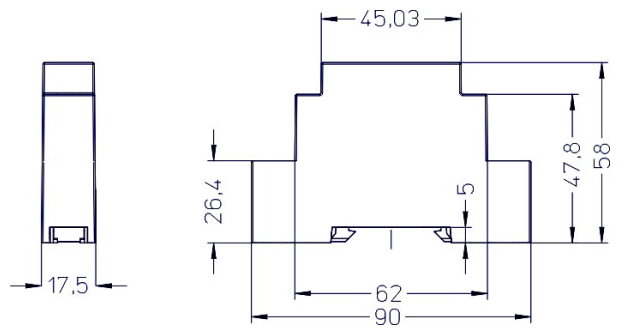 Order overview
Downloads