Important information about TS70
The TS70 is discontinued. We recommend using the TS400 TS400
Description
The TS70 annuncitator system is a family of basic modular devices which can be expanded up to 70 digital inputs. Alarms are signalled via a text display and integrated horn. The units are programmed from a PC keyboard. The system comprises the following three primary components:
CM 70 control module
The CM is the control- and display module for the system. In the idle state, the unit displays the time and date. If a fault arises, the text appears in the display and the integrated horn is switched on. The integrated buttons can be used to scroll through the faults to acknowledge each message. An additional log printer e.g. EPSON LX 300 (parallel port) can be connected to the CM.
IOM 2470 Input- output module
The IOM has two system inputs for the external horn- and group acknowledgement. Signal inputs 1 to 6 are also integrated. These lead to the horn-, collective and group output.
IE 2470 Input extension module
The IE 2470 can be connected to extend the system by an additional 32 inputs. Up to two IE 2470 modules can be used.
Diagram TS70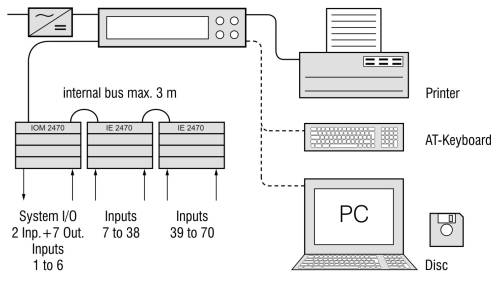 Technical data
Type
CM 70 Control module
IOM 2470 Input- output module
IE 2470 Input extension module
Image
Alu housing WxHxD
192 x 48 x 110mm
108 x 80 x 58mm DIN
108 x 80 x 58mm DIN
Front panel cutout
186 x 45mm




Installation position
any
any
any
Connections
Printer Sub-D25/ AT keyboard
Screw terminals
Screw terminals
Supply voltage
12-24VDC
12-24VDC
12-24VDC
Switching capacity, outputs
none
max. 0.5A / 10-30VDC
max. 0.5A / 10-30VDC
Max. power consumption
max. 20W / System
max. 20W / System
max. 20W / System
Internal bus length
maximum 3 meter
Schematic
Please click on the image for a larger view or go to the
download of the wiring diagram sheet
TS70 IOM 2470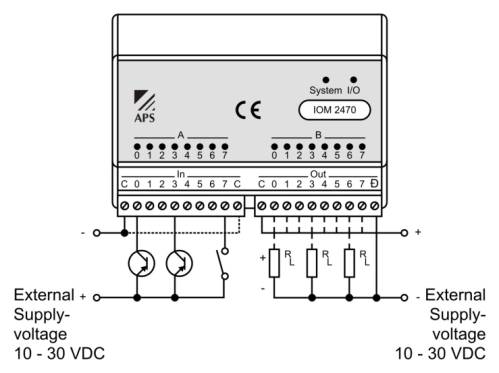 TS70 IE 2470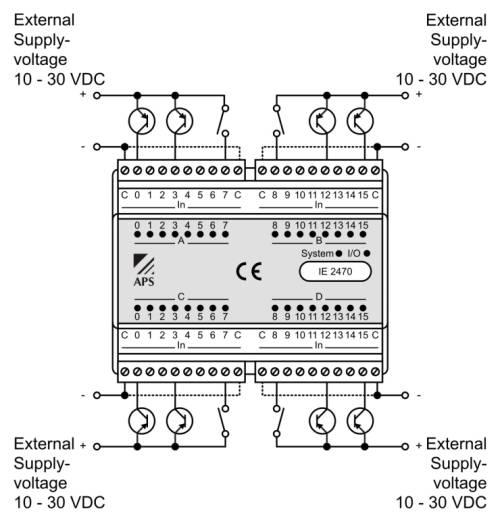 Dimensions
Please click on the image for a larger view
TS70 CM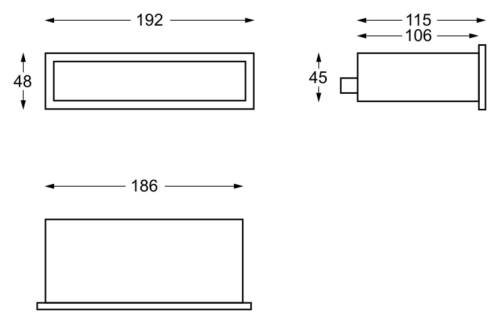 TS70 IE und IOM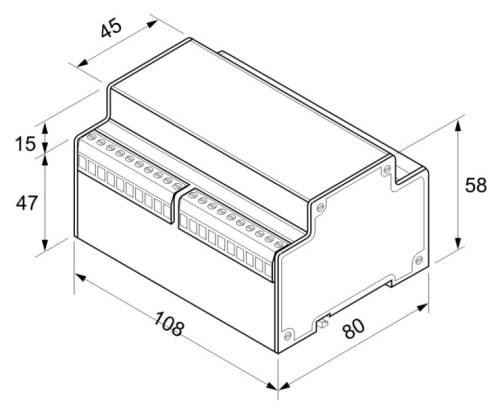 Order overview
The TS70 is discontinued. Some spare parts are available, please contact us for more information.
We recommend using the TS400
Downloads