Description
The TS400 remote display enables alarm text to be displayed that can be read easily from long distances. The areas of application include, for example, production facilities, warehouse halls or even outdoor areas. Only alarms that have not yet been acknowledged are displayed on the TS400 remote display unit. If there are multiple alarms to be displayed, they are displayed intermittently. The data and time are displayed under steady state conditions.
Two variants of the TS400 remote display are available:
- V160DGA3R with a length of 1,020mm can display 12 characters of 100 mm height or 2x16 characters of 80 mm height
- V160DGA5R with a length of 1,660 mm can display 20 characters of 100 mm height or 2x26 characters of 80 mm height
The short text from the SIG is used for the display. If the text entered is too long to be displayed with 100 mm character height, the character height is automatically reduced to 80 mm. If the text is still too long to be displayed, it shall be truncated.
Integration
The TS400 remote displays are connected with an RS-485 data line to the gateway of the TS400 CPU processor module. The power supply for the remote display unit is 110-240 V AC.
View of the nodelist in the TS400

1. USB port to which the gateway is connected
2. Transmission rate of 9,600 Baud
3. Type of the node for this application: "DISPLAY"
4. As option, the type of the remote display unit must be entered, either V160dga3r or V160dga5r
The remaining configuration is set in a manner identical to that for the control of the other terminals, and you can choose the TS400 remote display on which the alarm text needs to be output for each SIG.
Schematic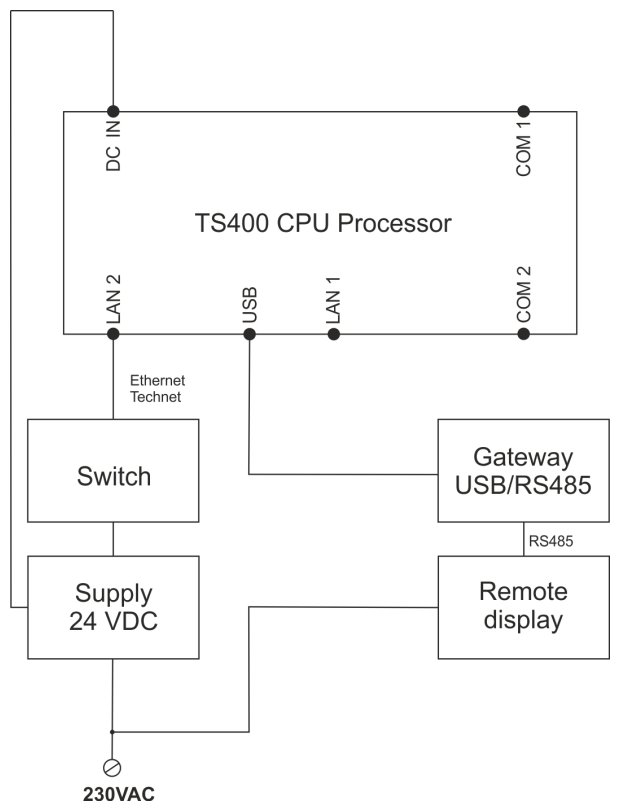 Dimensions
Please click on the schematic to get a lager picture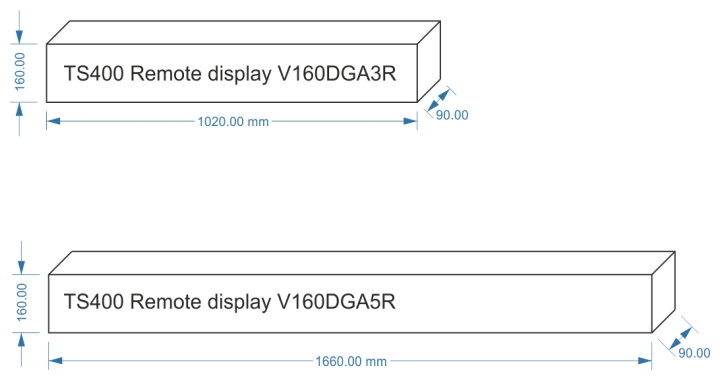 Technical data
Typ
TS400 Remote display V160DGA3R
TS400 Remote display V160DGA5R
Part number
V160DGA3R
V160DGA5R
Dimensions
1020x160x90mm
1660x160x90mm
Weight
8kg
12kg
Number of characters shwon with 80mm height
2x16
2x26
Number of characters shwon with 100mm height
12
20
Housing
Aluminium
Mounting
Wall mounted, additional hardware enables ceiling mounting
Protection degree
IP 65
Supply voltage
110-240VAC
Interface
RS485
Reading distance
up to 80m
Reading angle
Horizontal 140°, vertical 80°
TS400 Downloads