Description
OE24/0.5 and OE24/2.0 output extensions modules offers eight digital outputs, OE230/5.0 offers four digital outputs. Up to 7 enhancement modules (IE and/or OE) can be connected to an output- or input module (OM or IM). The digital inputs are wired using a terminal block.
View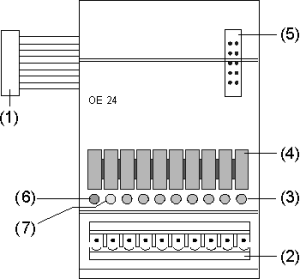 (1) port to previous module
(2) socket for terminal blocks
(3) Orange LED lights when output active
(4) Labelling trips
(5) port for next module
(6) Red LED lights when short-circuit arises (OE 24/0.5 and OE 24/2.0 only)
(7) Green LED lights when supply voltage is present (OE 24/0.5 and OE 24/2.0 only)
Schematic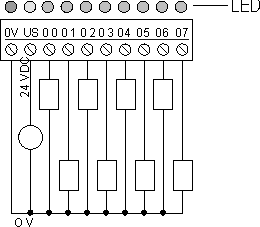 The OE24 output enhancement modules offer eight digital outputs, each with a 24V DC output voltage. They are available in 0.5A and 2.0A variants.
Caution!
All the outputs have short-circuit protection. Nevertheless, the OE24/0.5 can be completely destroyed if overloaded!
All outputs have a common 0V connection (GND) and are galvanically isolated from the module logic.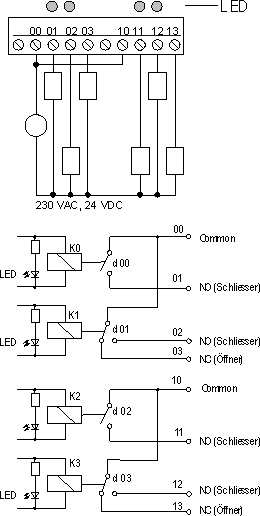 The OE230/5.0 output enhancement modules offer four digital outputs, each having a voltage of 230V AC. It is equipped for a 5A switching current.
Each pair of relay contacts have a common supply connection.
Technical data



OE 24/0.5




OE 24/2.0




OE/230/5.0




Digital outputs


output type
switching voltage
signal level without load
signal = 0
signal = 1
output current
T = 0 .. +35 ¦C
T = +45 ¦C
T = +55 ¦C
short-circuit current typ.
cut-off time
restart time
Total loading capacity
Minimum switching current
Limit. of inductive cut-off volt.
Switching frequency max.
Ohmic load
Inductive load
Consequence of overloading
8
FET, positive switching


less than +2 VDC
+18 to +36 VDC

less than 0.5 A
less than 0.5 A
less than 0.5 A
5 A
1.5 msec
less than 5 sec
4 A
100 ÁA
fly-wheel diode

100 Hz
2 Hz
unit may be destroyed
8
FET, positive switching


less than +2 VDC
+18 to +36 VDC

less than 2.0 A
less than 1.5 A
less than 1.5 A
12 A
1.5 msec
less than 5 sec
8 A
100 ÁA
fly-wheel diode

100 Hz
2 Hz
outputs deactivated
4
Relays 2S/2U




5 ADC/AC






12 A
100 mA
none

with load max. 0.1Hz
without load max. 20Hz


Power consumption, logic



200 mW
200 mW
1 W

Electrical isolation


Output / Logic
Output / Output


yes
no


yes
yes


yes
yes


Ambient temperature


Operating
Storage


0 to +55 ¦C
-25 .. +70 ¦

0 to +55 ¦C
-25 .. +70 ¦

0 to +55 ¦C
-25 .. +70 ¦
Protection category

IP 40
IP 40
IP 40
Dimensions (W x H x D) in mm
55 x 58 x 85
55 x 58 x 85
55 x 58 x 85
Weight

140 g
150 g
150 g
Downloads