Description
The CM control module is the man to machine interface in the TS-200 system. It has both a visual and acoustic output and is entry ready for operator use and configuration. Operators use the buttons on the front of the unit The system is configured using an AT keyboard.
View
The graphic shows the front of the CM control module with its 4-row liquid crystal display and 5 user pushbuttons. These have pressure points which safeguard against being pressed accidentally. To assist users, the buttons next requiring activation in the alarm procedure are backlit.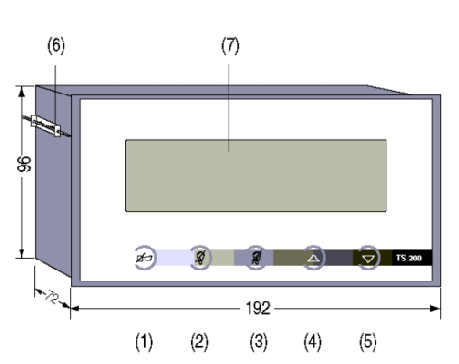 (1) Acoustic alarm acknowledgement (horn acknowledgement)
(2) Single acknowledgement
(3) Double acknowledgement
(4) Go up a row
(5) Go down a row
(6) Assembly frame
(7) Liquid crystal display, 8 rows, each with 40 characters.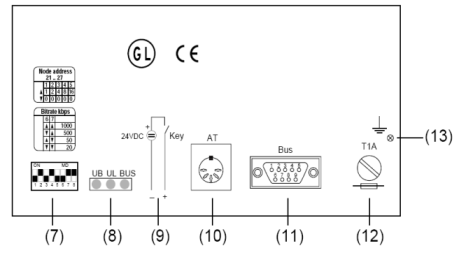 The reverse side of the control module has the following
(7) A DIP switch used to adjust node numbers and bus transfer rate
(8) Three green LEDs for monitoring
(9) Connection for the key-operated switch
(10)Socket for the AT keyboard
(11)D-Sub-9 plug connector for the bus connection
(12)A fine-wire fuse (1 A, T type)
(13)Connection for HF earthing
Technical data
Display
active surface
size of display
size of characters
backlighting

Liquid crystal display, dot matrix
127mm x 34mm
8 rows x 40 characters
5x7 dots
LED, green

Acoustic alarm
Sound frequency 2,300Hz

User buttons
Lighting

Membrane keyboard with short-stroke keys
LED, yellow

Keyboard requirement
Connection
Keyboard
Layout
Current consumption


DIN plug connector, 5-pole
101/102 keys AT keyboard
SG, GR, US, SF
urrent consumption < 275 mA

Key-operated switch
Input voltage:
Released for operation
Locked for operationt
limit 1)
nput current (at +24V DC)

Passive, digital input

0 VDCNOM (< +5 VDC)
+24 VDCNOM (> +14 VDC)
-36 .. +36 VDC
< 6 mA

Bus connection
CAN (ISO 11898)
Supply voltage UB
operating range
limit 1)
max. power consumption

24 VDCNOM
+18 to + 36 VDC
-36 to +36 VDC
10 W

Electric isolation
Supply/logic, bus key
Soperated input/logic, bus


yes
yes


Ambient temperature


operating
storage


0 to +50 °C
-20 to +60 °C

Protection category
With front seal (optional)

IP 20
IP 65

Dimensions of front panel cutout


B: 186 mm (+1.1, -0),
H: 92 mm (+0.8, -0)

Dimensions

192 x 72 x 96 mm

Weight
900 g

Downloads