Description
General
The LSE Indicator Unit is designed to signalise the operation or fault of technical equipment. The wide range of applications reaches from simple machine displays up to signalising of technical alarms in buildings. The units are front mounted in a standard cut out. All electrical connections are realised by plug-in screw terminals on the back of the unit. Therewith, unit changes and mensurations are easily to realise. To build larger systems with a higher amount of inputs than a single device offers, it is possible to connect up to twelve units. The Indicator Unit is available with 8 or 16 inputs/LED's. Different colours, DUO-LED's and customer specific colour combinations are obtainable. The signal- and supply voltage is 24VDC.
Function
Signal inputs
The 8 or 16 inputs are all NO normally open
LED
The LED's on the front are working as an image of the signal inputs
Lamp test
The lamp test button activates all LED's for about 4 seconds. If several units are connected together the lamp test is overlapping.
Function diagram

Schematic
Please click on the image for a larger view or go to the
download of the wiring diagram sheet
Indicator Unit with 8 Inputs / single colour LED's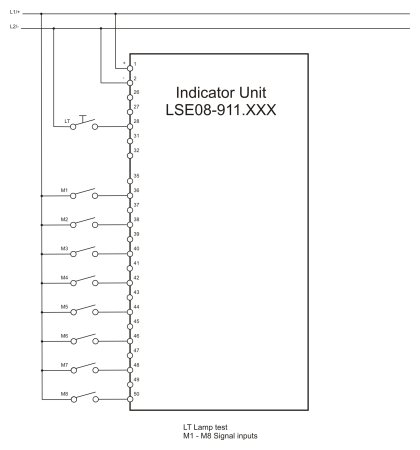 Indicator Unit with 16 Inputs / single colour LED's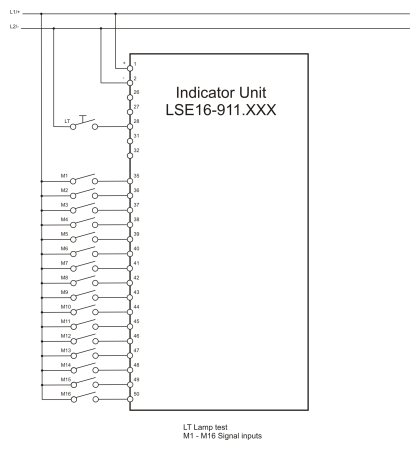 Indicator Unit with 8 Inputs / DUO-LED's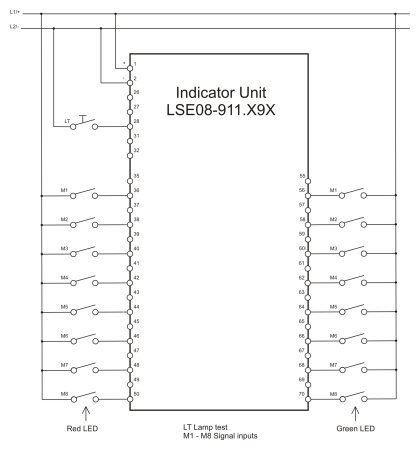 Indicator Unit with 16 Inputs / DUO-LED's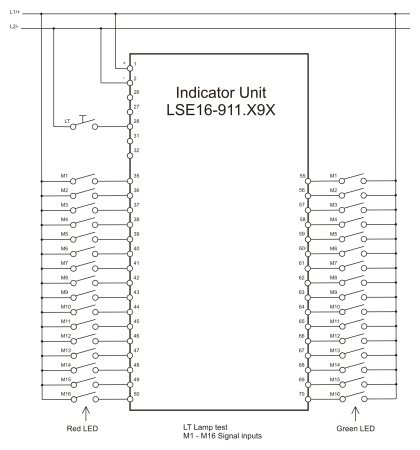 Programming
The indicator unit does not need any programming
Dimensions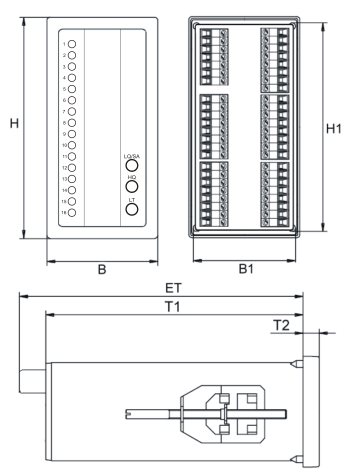 | H | B | H1 | B1 | ET | T1 | T2 |
| --- | --- | --- | --- | --- | --- | --- |
| 144 mm | 72 mm | 136 mm | 65 mm | 130 mm | 108 mm | 8.5 mm |
Technical data
| | |
| --- | --- |
| Number of inputs | 8 / 16 |
| Type of inputs | NO normally open |
| Supply voltage | 24-28VDC |
| LED colours | Red/green/yellow/DUO red-green/ Special colours and mixed on request |
| Power consumption per LED | max. 10mA |
| Ambient temperature | -20 - +65°C |
| Mounting position | Any |
| Protection class | Housing: IP40 / Terminals: IP20 |
| Connectors | Plug-in screw terminals 4mm2 (2x1.5mm2) |
| Weight | 400g / 440g |
| Dimensions WxHxD | 144x72x130mm |
| Front panel cut-out | 138x68mm |
Order overview standard units
| | | | |
| --- | --- | --- | --- |
| LSE08-911.120 | | 8 LED red / 24VDC / with button LT | |
| LSE08-911.140 | | 8 LED yellow / 24VDC / with button LT | |
| LSE08-911.150 | | 8 LED green / 24VDC / with button LT | |
| LSE08-911.190 | | 8 DUO-LED red-green / 24VDC / with button LT | |
| LSE16-911.120 | | 16 LED red / 24VDC / with button LT | |
| LSE16-911.140 | | 16 LED yellow / 24VDC / with button LT | |
| LSE16-911.150 | | 16 LED green / 24VDC / with button LT | |
| LSE16-911.190 | | 16 DUO-LED red-green / 24VDC / with button LT | |
Downloads