Description
The LSB annunciator system is a common alarm indicator for 230V AC or 24V AC/DC. It is made up of two function modules. These can be either used alone or in combination, depending on the particulars of the application.
Master module
The master module contains the horn output (relay contact) and group alarm (relay contact) functions that are required for a complete alarm system. In addition, there are also 4 signal inputs which control a group alarm relay. All incoming fault alerts to the master module inputs are indicated by continuously lit integral LEDs. 4 outputs are available for use with additional, external indicator lamps.
Group module
The group module is configured for 8 signal inputs which affect a group relay. The group module can be used for basic alarm requirements without a master module, when only the group alarm (relay) and the single- group display are required. Each incoming fault alert is indicated by an LED assigned to the respective input. 8 outputs are available for use with additional, external indicator lamps.
Function
Each incoming fault alert is indicated by a continuous light and the associated output is activated. The relay for the super-ordinated group alarm is also energized on the master module. The group relay (only on the associated module) is also energized
The first incoming fault alert energizes the horn relay. The horn relay can be reset at the Input HQ. The horn relay can only be energized again once all faults have been removed. If an acknowledgement is not made, the horn relay will return to the normal state by itself, if a message is no longer present.
All modules with individual indication come with a special lamp test switch. If a signal intrudes at the lamp test input, a relay in the module will take up the lamp test. This relay serves to relieve the button for the lamp test as the auxiliary relay takes up all the lamp current. A specially developed switch can also be used to enable a lamp test in AC operation. When using AC, the lamp check works with pure alternating current and not with half-waves, which is the generally accepted method. For the user, this means that transformers or voltage reducers can be used without problem, and without diminishing the brightness of the indicators.
Function diagram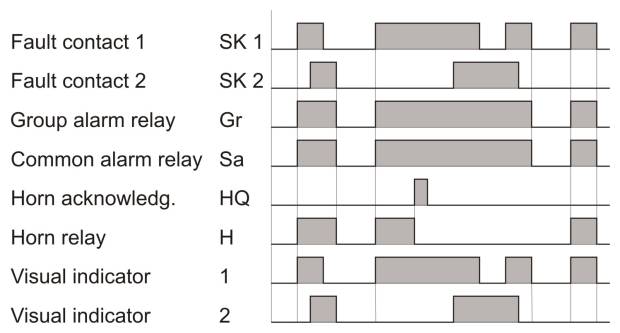 Technical data
| | | |
| --- | --- | --- |
| | 24V AC/DC version | 230V AC version |
| Number of alerts | Master module 4/ Extension module 8 | Master module 4/ Extension module 8 |
| Supply- and alarm voltage | 24VAC/DC +-15% | 230VAC +-15% |
| Power consumption | max. 2W | max. 5W |
| Response time | approx. 100ms | approx. 100ms |
| Recovery time | approx. 500ms | approx. 500ms |
| Switching capacity (relay contacts) | 4A 230V | 4A 230V |
| Connections | max. 4mm2 or 2x1,5mm2 | max. 4mm2 or 2x1,5mm2 |
| Installation position | any | any |
| Weight | approx. 150g | approx. 150g |
| Dimensions | 77x90x45mm | 77x90x45mm |
Schematic
Please click on the image for a larger view or
download the diagram sheet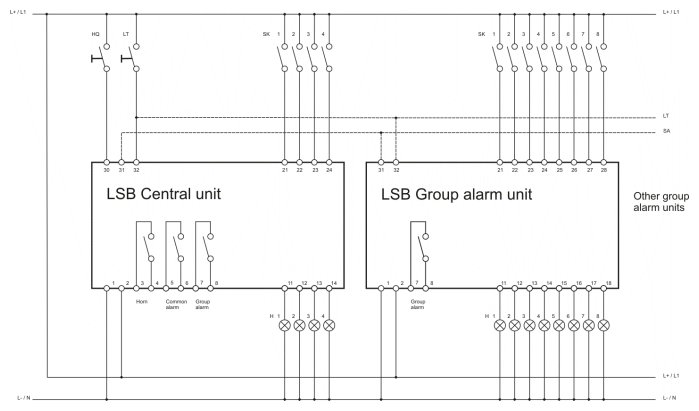 Order overview

| Part number | Image | Description | Shop |
| --- | --- | --- | --- |
| LSB04-411.001 | | Master module, 4 inputs 24V AC/DC | |
| LSB08-411.002 | | Group module, 8 inputs 24V AC/DC | |
| LSB04-422.001 | | Master module, 4 inputs 230V AC | |
| LSB08-422.002 | | Group module, 8 inputs 230V AC | |
Downloads