Description
Digital voltage monitoring relay with LCD display form selec. Controls one or three pase voltage with or without neutral.
Monitors overvoltage, undervoltage, overfrequency, underfrequency, phase asymmetry, phase failure and phase sequence. RMS measurement.
Easy setting with three front push buttons with sealable cover. Slim space saving design, only 35mm wide. 35mm DIN Rail mount.
Function Please click on the image for a larger view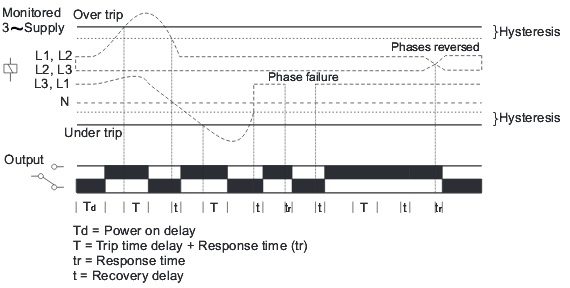 Technical data
| | |
| --- | --- |
| Display | |
| Liquid Crystal Display | 3 digits |
| Input | |
| Measurements | Under voltage, over voltage, under frequency, over frequency, phase asymmetry, phase failure and phase sequence |
| Time Setting | Power ON delay, trip time delay and recovery time delay |
| Alarm indications | Trip |
| Latching | Selectable |
| Reset | Auto / manual |
| Electrical connection | 3 or 4 wire |
| Supply voltage | Self powered |
| Operating Range (L-N) | 160 - 300VAC |
| Operating Range (L-L) | 280 - 520VAC |
| Power consumption | 30VA max |
| Frequency | 45 - 65Hz |
| Measuring range RMS (L-N) | 0 - 300VAC |
| Measuring range RMS (L-L) | 0 - 520VAC |
| Trip setting under voltage 3 wire | 280 -520VAC (L-L) |
| Trip setting under voltage 4 wire | 160 -300VAC (L-N) |
| Trip setting over voltage 3 wire | 280 -520VAC (L-L) |
| Trip setting over voltage 4 wire | 160 -300VAC (L-N) |
| Under frequency | 45 - 65Hz |
| Over frequency | 45 - 65Hz |
| Phase failure | Yes |
| Phase sequence | Yes |
| Trip setting asymmetry | 5 - 99.9% |
| Power ON delay | 2-99.9s |
| Trip time delay | 0 - 99.9s |
| Recovery time delay | 0 - 99.9s |
| Response time | <200ms |
| Hysteresis voltage | 1 - 99.9V |
| Hysteresis frequency | 0.2 - 2Hz |
| Hysteresis asymmetry | 2 - 20% |
| Resolution voltage | 1V |
| Resolution frequency | 0.1Hz |
| Accuracy voltage setting | ±1% |
| Accuracy frequency setting | ±0.3Hz |
| Accuracy time setting | ±5% of setting + 200ms |
| Output | |
| Contact | 2 SPDT (2 C/O) |
| Relay rating NO | 5A @ 250V AC |
| Relay rating NC | 3A @ 250V AC |
| Environmental Specifications | |
| Operating temperature: | 0 - 55 C |
| Storage temperature | -20 - 70 C |
| Humidity | 95% rF (non-condensing) |
| Pollution degree | 2 |
| Mechanical specifications | |
| Dimensions wxhxd | 35 x 90 x 70.5mm |
| Mounting | 35mm DIN rail |
| Weight | 135g |
| Protection degree terminals | IP20 |
| Protection degree housing | IP30 |
| Protection degree faceplate | IP50 |
| | |
| Standards EMC | |
| Electromagnetic compatibility | IEC61326-1 (2005-12) |
| ESD Immunity | IEC61000-4-2, level 3 |
| Surge immunity: | IEC61000-4-5 +/- 2kV common mode, +/- 1kV differential mode |
| Radiated Susceptibility | IEC 61000-4-3 level 3, 80 - 1000MHz |
| Leitungsgebundene Störfestigkeit | IEC61000-4-6, Level 2 |
| Conducted susceptibility: | IEC61000-4-11, level 3 |
| Conducted emissions | CISPR11 & IEC 61000-6-3 |
| Radiated emissions | CISPR22 |
| Electrical fast transients (EFT) | IEC61000-4-4, Level 3 |
Schematic
Please click on the drewing for a larger view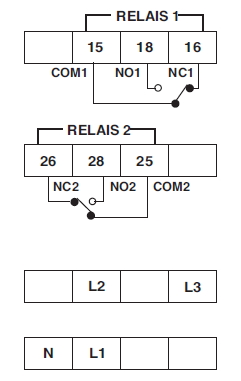 Dimensions
Please click on the drawing for a larger view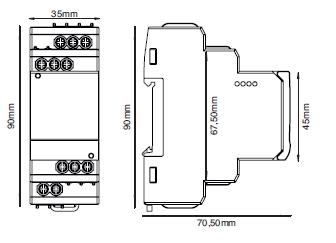 Order overview
| | | | | | | |
| --- | --- | --- | --- | --- | --- | --- |
| | 900VPR-2 | Spannungsüberwachungsrelais | 280-520VAC / 160-300VAC / 2x UM | 4 | 70.15 CHF | |