SMS agent Description
The remote alarming module SMS
agent
is a compact GSM remote control module for DIN-rail mounting. It comes in 24V DC and 230V AC versions. The SMS
agent
is equipped with four digital- and two analogue inputs. for which there are four digital outputs. All events can be recorded using a memory and called up at any time. It is the ideal system for transmitting status- or alarm alerts via SMS, fax or email. The outputs can be activated either via SMS or locally via connections with the inputs.
The system is delivered as a complete package comprising the remote control module, software, programming cables and antennae. The software is free-of-charge and can be downloaded from our site.
The SMS
agent
is available in various versions. These versions have different supply voltages and different configurations of the analogue inputs.
Technical data
Indicators
System: Operating status OK (constant green)
Power: Supply voltage OK (contstant green)
Rxd/Txd: Serial communication active (flickering yellow)
Modem: Modem status OK (blinking red)
Max. no. of saved messages at any one time
20
Max. no. of telephone numbers
30
No. of pikett profiles
3
Housing
Anodised aluminium, HxWxD= 80 x 162 x 62mm
Installation position
any
Connections
Plug-in screw-terminals, max. 1.5mm2
Temperature range
-10°C to +55°C
Protection category
IP20
Supply voltage
24VDC +/- 20%
Switching capacity, outputs
max. 0.5A / 10-30 VDC
Max. power consumption
max. 120mA
Real time clock
Automatic leap-year adjustment
Accurate to less than +/- 1s at 25°C
Battery
internal lithium battery, 800mA
Digital inputs
Voltage activated, 10-30V DC
Voltage deactivated, max. 3V DC
Analogue inputs V type
Measuring range: 0-10V
Input impedance: 100kΩ
Limiting value: +/- 40V DC
Sampling interval: Min. 100mS
Analogue inputs, A type
Measuring range: 4-20mA
Input impedance: 100Ω
limiting value: +/- 30mA DC
sampling interval: Min. 100mS
PT 100 input
Measuring range: PT100 -50 to 100°C
Configuration: 2 or 3 wire
Schematic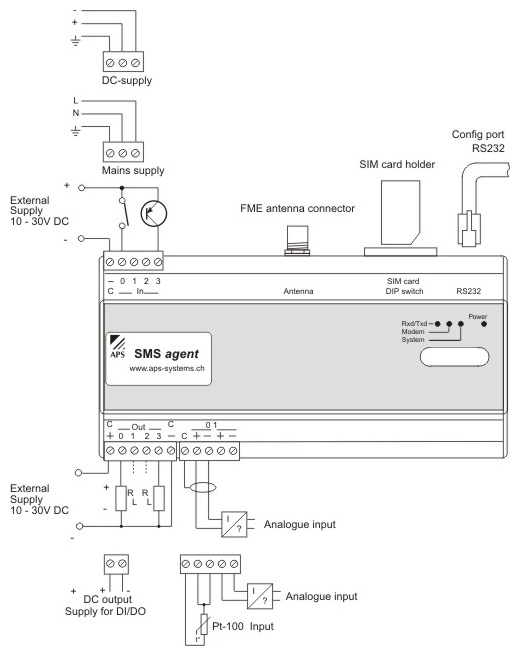 Dimensions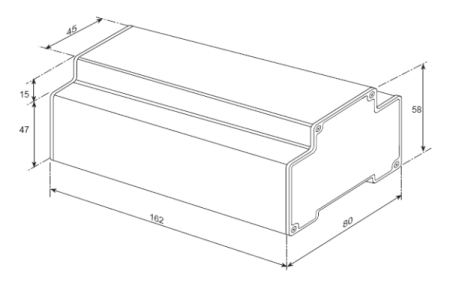 Order overview
| Part number | Picture | Description | Shop |
| --- | --- | --- | --- |
| GC-10/24.A | | SMS agent 24V DC/ 4 digital inputs/ 2 analogue inputs 4-20mA | |
| GC-10/24.V | | SMS agent 24V DC/ 4 digital inputs/ 2 analogue inputs 0-10V | |
| GC-10P/24.A | | SMS agent 24V DC/ 4 digital inputs/ 1 analogue input 4-20mA/ 1 PT100 input | |
| GC-10P/24.V | | SMS agent 24V DC/ 4 digital inputs/ 1 analogue input 0-10V/ 1 PT 100 input | |
| GC-10/230.A | | SMS agent 230V AC/ 4 digital inputs/ 2 analogue inputs 4-20mA | |
| GC-10/230.V | | SMS agent 230V AC/ 4 digital inputs/ 2 analogue inputs 0-10V | |
| GC-10P/230.A | | SMS agent 230V AC/ 4 digital inputs/ 1 analogue input 4-20mA/ 1 PT100 input | |
| GC-10P/230.V | | SMS agent 230V AC/ 4 digital inputs/ 1 analogue input 0-10V/ 1 PT 100 input | |
| 862.332.440 | | EcoPower PSS 244 230V AC/24V DC 4A power supply unit for DIN rail assembly | |
| UCA-AM | | GSM antenna with magnetic base, dual band with 2m connection cable | |
| 60603032E | | GSM station antenna, dual band with 5m connection cable and wall bracket | |
| 823.122.018 | | Extension cable for antenna, 5m with coupling (max. 3 pcs.) | |

Downloads