Description
On pulse timer relay Fixed time ranges: 0.1-3 secs., 1-30 secs., 0.1-3 mins or 1-30 mins. The time range is selected using a rotary switch on the front side of the relay. The relay is available in different versions for AC and DC supply voltages. Single or double output relay, relay energizing indicated with LED. Versions available for assembly on DIN rails or 11-pole plug-in mounting.
Function / Function diagram
When the supply voltage is connected, the relay energizes and the time starts running. When the chosen time has elapsed, the relay de-energizes. The relay de-energizes if the supply voltage is disconnected before the selected time has elapsed. .
Schematic
View / Size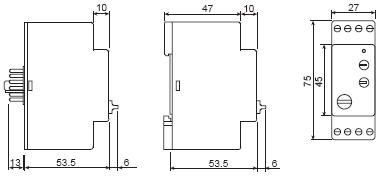 Technical data
| | |
| --- | --- |
| Time ranges | 0.1-3 sec. / 1-30 sec. / 0.1-3 min. / 1-30 min. |
| Repetition accuracy | +/- 0.5% |
| Setting accuracy | +/- 10% |
| Reset time | Max. 100mS |
| Output relay | 1 or 2 C/O |
| Relay load D1/S1 | Max. 8A/240VAC |
| Relay load D2/S2 | Max. 5A/240VAC |
| Switching frequency | Max. 1,000 cycles per hour at peak load |
| Electrical life | Min. 100,000 cycles |
| Mounting S-Version | 11-pole plug-in base |
| Mounting D-Version | DIN rail |
| Terminals | Max. 4mm² screw terminals |
| Voltage 024-Version | 24V AC/DC (20-28V) |
| Voltage 048-Version | 48V AC/DC (40-56V) |
| Voltage 115-Version | 110/120V AC (95-135V) |
| Voltage 230-Version | 220/240V AC (195-265V) |
| Voltage 400-Version | 380/415V AC (340-460V) |
| Frequency | 40-60Hz |
| Power consumption | 0.3-5VA |
| Protection degree S-Version | IP40 |
| Protection degree D-Version | IP20 |
| Temperature range | -20 to +55°C |
| Weight | Appr. 80g |
Order overview / Types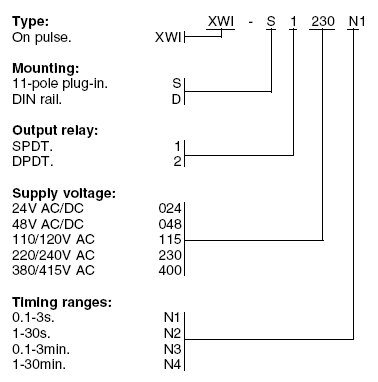 Downloads