Description
With the TS400 GPRS-IO, remote stations such as pumping stations or remote buildings can be integrated into the monitoring system. On the MT-101 controller, in addition to the GPRS Modem, eight digital inputs, and eight configurable inputs and outputs are already integrated. The controller can be expanded with up to 127 EX-101 expansion modules. For each expansion module 8 additional digital inputs and 8 configurable inputs and outputs are available.
To integrate the TS400 GPRS-IO into the system, the TS400 CPU Processor module must be connected using a fixed IP address.
Application examples: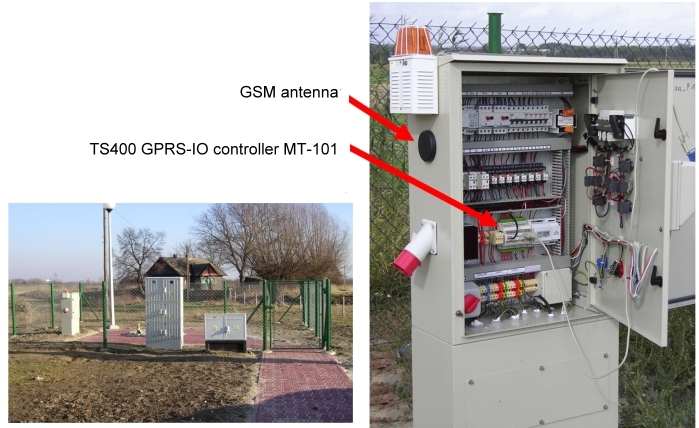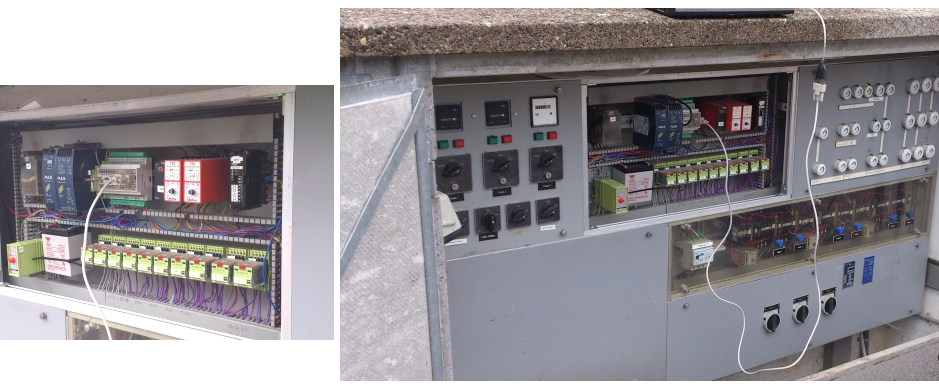 TS400 GPRS-IO integration
To integrate the GPRS-IO in the TS400, a one-time basic configuration using the supplied MT Manager has to be created. In the basic configuration, the number of IOs, the module address and the IP address of the TS400 are defined. Each MT-101 controller requires a SIM card. The connection between the MT-101 controller and the EX-101 expansion module is made with an RS-485 wire connection.
After booting, the TS400 GPRS-IO automatically connects to the defined TS400 and registers itself in the node list
View of the TS400 GPRS-IO in the TS400 node list

1. Folder for the TS400 GPRS-IO
2. Controller MT-101 here configured with 8DI and 8DO
3. Expansion module EX-101 also configured with 8DI and 8DO
The rest of the configuration is identical to local I/O configurations. The signals are sent over a SIG, which completes the configuration.
Schematic
Please click
here
or on the schematic to get a lager picture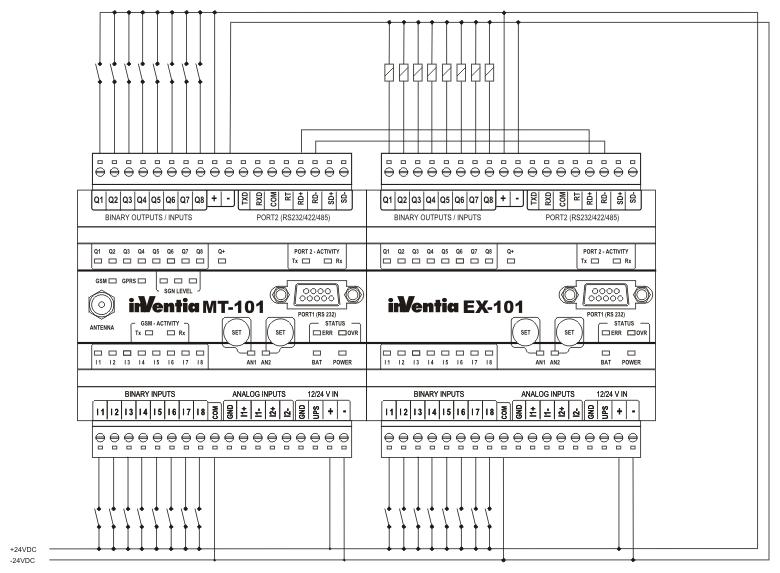 I1 - I8: Digital Inputs, Q1 - Q8: Digital In- or Outputs (changeable)
Dimensions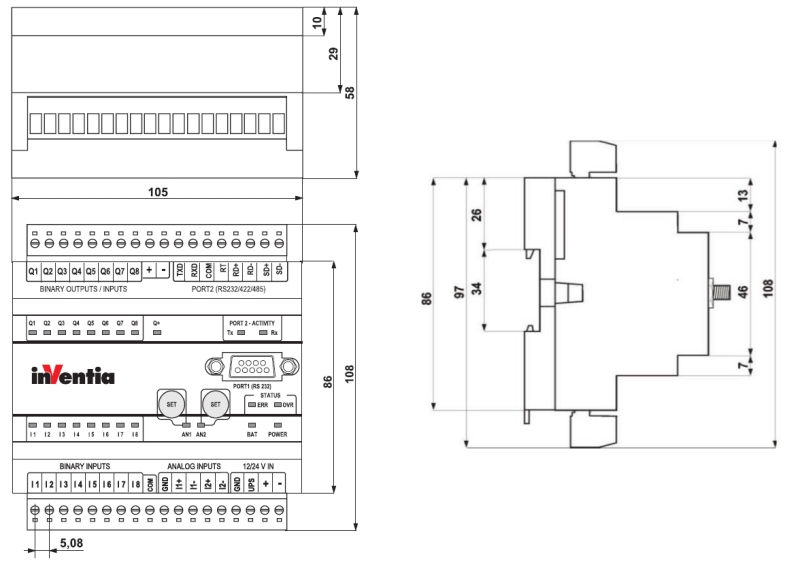 Technical data
Type
TS400 GPRS-IO controller MT-101
TS400 GPRS-IO expansion module EX-101
Image
Part number
MT-101
EX-101
Shop
Weight
320g
300g
GSM-modem
Quad Band 850/900/1800/1900MHz
--
GSM antenna connector
SMA
--
Temperature range
-20 to +50°C
Amount of digital inputs
8
Switch-on threshold digital inputs
9V
Switch-off threshold digital inputs
3V
Amount of digital in- and outputs (programmable)
8
Recommended output current for one output
50mA
Maximum output current for all outputs
400mA
Housing
Plastic
Mounting
35mm DIN-rail
Protection degree
IP 40
Supply voltage
24VDC (10.8 - 36VDC)
Dimensions (W x H x D) including connectors
105 x 108 x 58mm
TS400 Downloads