AS-D16 Description
The display element AS-D16-24-V24 is used as affordable display and operating element for facilities and devices. It is integrated and controlled via a serial interface. The AS-D16 features 16 DUO-LED, three operating buttons and a buzzer. It is installed into the cabinet or device front face. Easy labelling enabled by the enclosed slid-in strip. Interface and supply lines are connected to the screw terminals on the device backside.
The AS-D16-24-V24 may also be used as detached display of the fault reporting system LSX. It is directly connected to the LSX-CM via a cable. In this case, the power supply comes directly from the LSX. The switch S1 is therefore switched to position "LSX powered".
AS-D16 Interface
All data are transmitted line by line as readable commands. Each message corresponds to one line which must be concluded with ASCII 10 (Newline, '\n'). All data are transmitted as ASCII characters. Binary values are coded in hexa-decimal. Boolean data will result in a check for > ASCII '0'.
The display is organised into 5 columns (bytes) of 8 LEDs (bits).
Column 0: red LED Top
Column 1: red LED Bottom
Column 2: green LED Top
Column 3: green LED Bottom
Column 4: LED status-LED to front and print
5 byte-values are needed to set all columns. The installed buzzer is controlled separately by Boolean value.
This produces the following string, for example:
SVC1C000F4020\n
Broken down, this appears as follows:
SV "Command"
C1 "Byte 0 Red LED top"
C0 "Byte 1 Red LED bottom"
00 "Byte 2 Green LED top"
F4 "Byte 3 Green LED bottom"
02 "Byte 4 Status-LED"
0 "Bit buzzer"
\n "newline"
Command Structure: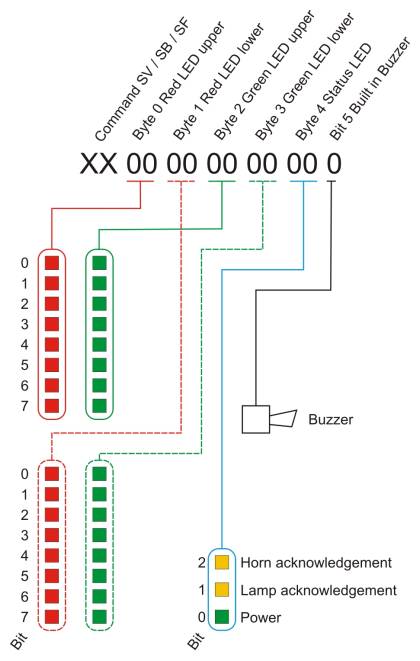 Technical data
| | |
| --- | --- |
| Signalling | 16 DUO LED / integrated Buzzer |
| Controller | Serial interface V-24 (RS-232) |
| Control elements | Horn acknowledgement / alarm acknowledgement / lamp test |
| Supply voltage | 8-30VDC / 12-28.5VAC, 40-80Hz |
| Power consumption | Max. 3W |
| Temperature range | -0°C to 65°C |
| Weight | 200g |
| Dimensions | WxHxD 72x144x74mm |
| Front panel cut out | 138x68mm |
| Terminal | Screw terminals max. 1.0mm2 |
| Mounting position | Any |
| Protection degree | IP20 |
Schematic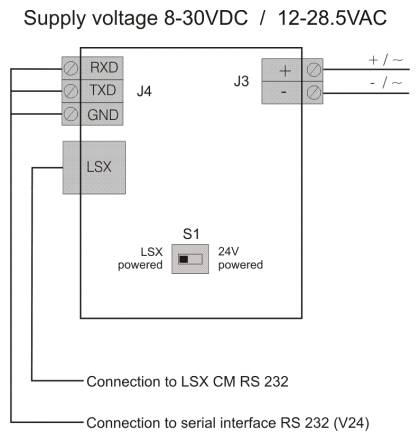 Dimensions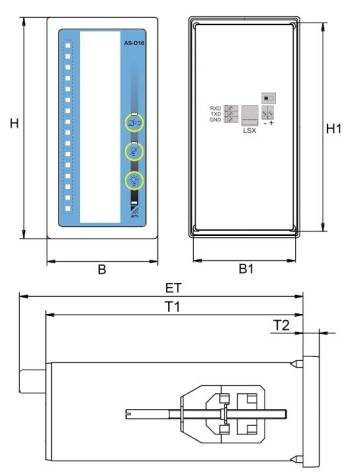 | H | B | H1 | B1 | ET | T1 | T2 |
| --- | --- | --- | --- | --- | --- | --- |
| 144 mm | 72 mm | 136 mm | 65 mm | 75 mm | 52 mm | 8.5 mm |
Order overview
| Part number | Picture | Description | Shop |
| --- | --- | --- | --- |
| AS-D16-24-V24 | | AS-D16 Indicator Unit Serial | |
Downloads