VOICE
agent
Description The VOICE
agent
remote alarming module is a compact device designed for DIN rail mounting with a 110-230VAC or 24VDC power supply. The VOICE
agent
is equipped with 16 iputs for 24VDC. Up to eight of the inputs can be configured as analogue inputs. Against this are four digital relay outputs (e.g. collective- or hornoutput). With the GSM version the outputs can be altered by SMS. All operating states, the time, analogue values and communication activities are shown in the display. Of course, the VOICE
agent
is also a solution to expand an existing system. Voice messages are transmitted using the analogue or GSM telephone network. The subscriber line can be monitored so as to activate the system output should it be disconnected. A test message can be sent at periodic intervals to test device operation. If this message is sent by e-mail it includes the acutal values including the analogues. Calling the device provides the information if there are actually any alarms.
All events are recorded in a log memory. This can be used to find out when an alarm arose and which subscriber acknowledged it.
To ensure proper function during power blackout, the VOICE
agent
has an integrated battery charge controller for an external connected battery pack. The battery conditon is monitored.
The actual status of the in- and outputs is visualised in the browser. Additionally, the value of analogue inputs is shown.
A web browser is used for programming the system. This means that no software needs to be installed or updated. The VOICE
agent
can be programmed and maintained over the network or the telephone line. The version 2.01.2328 or higher features the text to speech engine. Spoken messages are generated automatically. This new comfortable function features the following languages: German, French, English and Italian. Please order the language you need together with your VOICE
agent

You can expand the VOICE agent to a complete monitoring system: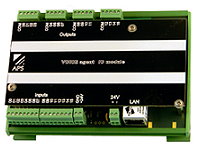 VOICE agent extension
The use of the VOICE
agent
extension enables the upgrade of the monitoring- and controlling system up to 64 inputs and 52 outputs. Every extension module offers additional 16 in- and 16 outputs. A total of three extensions can be integrated over the network to the VOICE
agent
.
Programming Since all the programming takes place fully in the browser, there is no need to purchase software and updates. The configuration comes with graphics and is menu-based. 3 pikett groups are available for the alarm function, each having 10 subscribers. A separate language file can be specified for each of the 16 inputs. The fault message procedure is carried out in accordance to DIN 19235. Delay times for the inputs, triggering the alarm and also for the jump to the next subscribers in the alarm chain. Each subscriber in the alarm list can acknowledge the fault by entering a code (DTMF tones), thus stopping further processing of the list.
Using the front mounted knob enables the setting of parameters like phone numbers of alarm recipients. This access is protected by an 4 to 6 digit code.
Access to our demo system:
Please click here for having a look in the programming of the VOICE agent, the user is "Gast" and does not need a password
Example of the programming by browser: Analogue input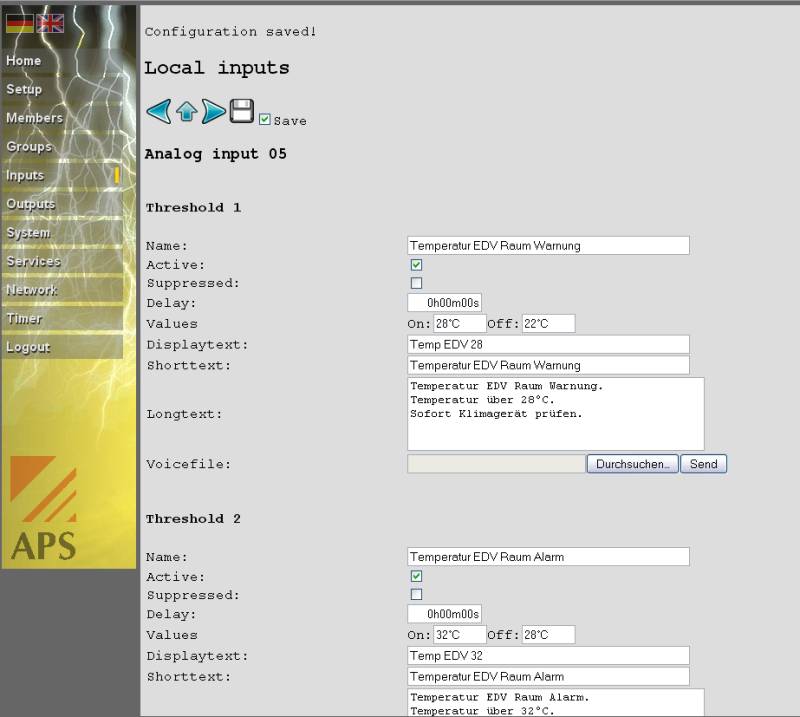 View of the status monitoring by browser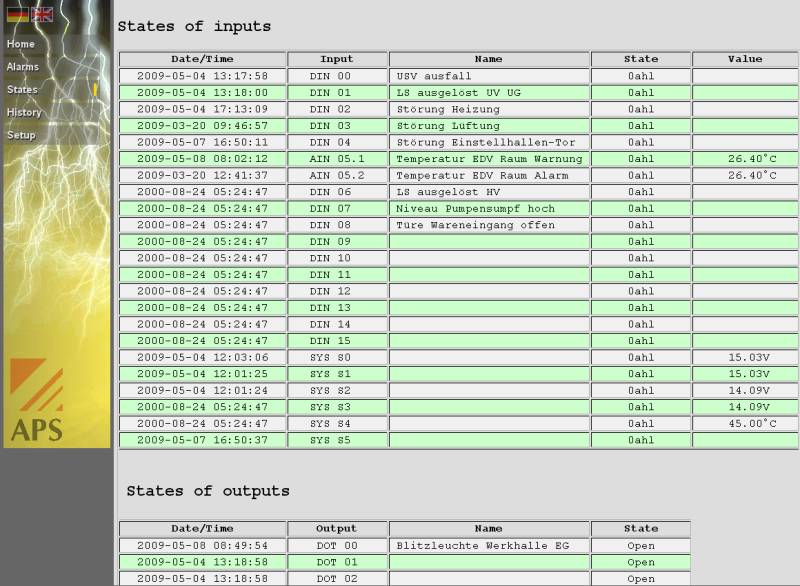 Technical data
| | |
| --- | --- |
| Inputs basic setup | 16, up to 8 changeable to analogue |
| Maximum number of inputs | 64 with three extensions, up to 24 changeable to analogue |
| Digital inputs | 24VDC NO or NC |
| Analogue inputs (I00-I07) | 0-10V or 0-20mA with shunt |
| Outputs basic setup | 4 potential free relays |
| Maximum number of outputs | 52 with three extensions |
| Switching capacity, relay outputs | Max. 6A / 230VAC AC1 |
| Switching capacity, transistor outputs | Max. 80mA / 50VDC open-drain to COM (GND) |
| Supply voltage AC version | 230VAC (100-240VAC / 47-63Hz) |
| Supply voltage DC version | 24VDC (18-70VDC) |
| Power consumption | Max. 10W |
| Internal signal voltage | 15VDC internally generated |
| External signal voltage | 24VDC max. |
| Modem landline version | Analogue a/b |
| Modem GSM version | GSM 900/1800MHz / SMA connector |
| Network LAN | Static IP-Address or DHCP |
| Battery charger | Integrated for 12V accumulator up to 3Ah |
| Display | 3 Row-LCD-display backlit |
| Number of speech files | 32 |
| Number of phone numbers | 30 |
| Number of alarm profiles | 8 |
| Time channels | 8 |
| Speech files formats | Usual sound files like wav, raw, pcm, mp3 |
| Housing | Metal powder coated |
| Dimensions WxHxD (without connectors/knob) | 175 x 90 x 59 mm |
| Dimensions WxHxD (with connectors/knob) | 175 x 120 x 68mm |
| Weight | Appr. 650g |
| Mounting position | Any |
| Mounting | 35mm DIN-Rail or 19" Rack with optional rack panel: PS-3U |
| Connectors | Screw-plugterminals max. 1,5mm2 |
| Ambient temperature | 0°C bis +40°C |
| Protection degree | IP20 |
| Real time clock | Automatic leap-year adjustment. Accurate to less than +/- 1s at 25°C |
Schematic
Please click on the image for a larger view or go to the
download of the wiring diagram sheet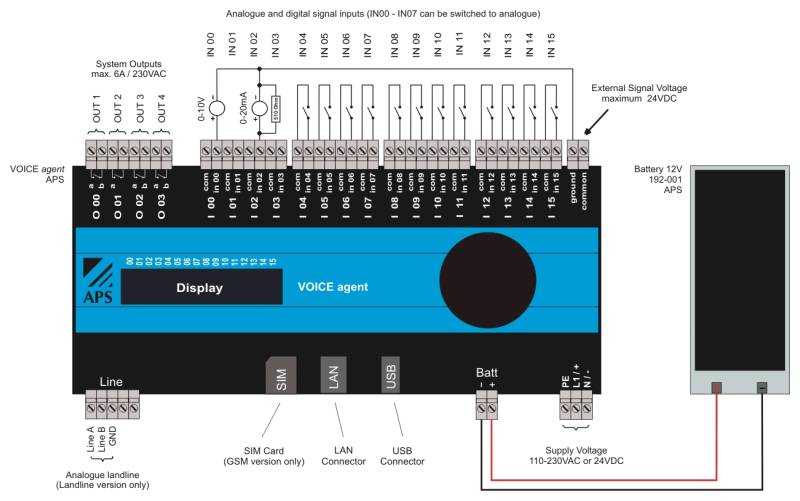 Dimensions
Please click on the image for a larger view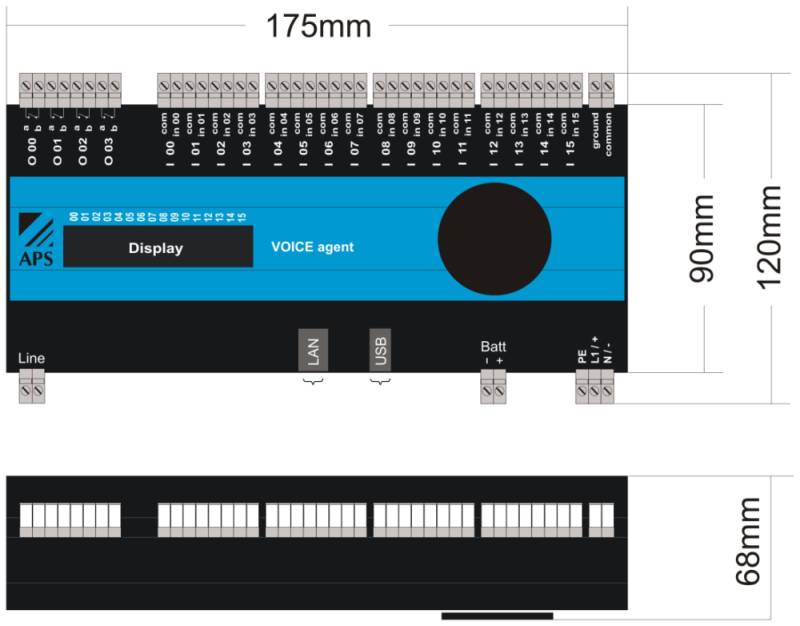 Order overview
| Part number | Picture | Description | Shop |
| --- | --- | --- | --- |
| 832.200.000 | | VOICE agent landline 110-230VAC | |
| 832.200.100 | | VOICE agent landline 24VDC | |
| 832.210.000 | | VOICE agent GSM 110-230VAC | |
| 832.210.100 | | VOICE agent GSM 24VDC | |
| 832.200.010 | | Upgrade text to speech engine German | |
| 832.200.011 | | Upgrade text to speech engine French | |
| 832.200.012 | | Upgrade text to speech engine English | |
| 832.200.013 | | Upgrade text to speech engine Italian | |
| 832.290.000 | | VOICE agent extension 24VDC, 16x inputs, 16x relay outputs | |
| 832.295.000 | | VOICE agent extension 24VDC, 16x inputs, 16x transistor outputs | |
| 192-001 | | Battery 12V 1,2 Ah 96x46x55mm | |
| 829201 | | Battery tray 115x100x65mm DIN-rail mounted | |
| PS-3U | | Rack-Panel 19, 3HU with DIN-rail | |
| 901-0103 | | Smoke detector | |
| 901-0109 | | Magnetic door contact | |
| SWM5 | | Water/Oil sensor 5mm with 5m cable, 1 relay contact NC 24VAC/DC | |
| 901-0106 | | Moisture sensor NVP-15 (Controller unit for sensor band) | |
| 901-0107 | | Moisture sensor band NVPF (per/meter) | |
| AFT-U | | Humidity/Temperature sensor 0-100rF -30°C to 70°C without display 2 x 0-10V | |
| RFTF-U | | Humidity/Temperature sensor 0-100rF 0°C to 50°C without display 2 x 0-10V | |
| RFTF-U_LCD | | Humidity/Temperature sensor 0-100rF 0°C to 50°C with display 2 x 0-10V | |
| UCA-AM | | GSM-magnetic antenna dual-band with 2m cable | |
| 60603032E | | GSM-wall mounted antenna with 5m cable | |
Downloads